Madrid Taxi´s History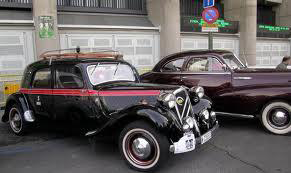 The First taxi-like known were the hire mules, that began to circulate in the village and Court of Madrid during the reign of Phillip II. Then appeared on the streets, the sedan chairs, berths and the first hire cars. The years of sixteenth and seventeenth century were years of great picaresque between chair porters and mules taxi owners, which moved to outskirts of the city to escape the municipal control authorities.
Already in the seventeeth century it was increased the rental cars fleet in the center of the city. It was popularized transport carriage and appeared the famous car called simon that achieved great fame in literary circles, because of its uncomfortableness and high prices.
Another important event in the taxi´s history is the appearance of 'diligent' car, a new concept of hired carriage that is installed in the capital´s center and started to be exploited with a municipal basis. The new service has shutdown set points, schedules depending on the season and a special dress in the drivers.
The Hire cars were increased in the streets of the city during the nineteenth century. They were famous the walks around the Retiro and La Castellana avenue. The city council began to regulate the traffic of taxi horses by means of, installing taxi stops, stablishing price limits, and ordering the drivers to not turn away animals to avoid frights and setbacks.
The richest historical period for this transport media was the twentieth century. During the early years circulated in the streets, horse taxis with and without taxi-meter and autotaxis. The city was full of motor cars and horse vehicles so that the city council published the first ordinances of the sector. In this period, the taxi must share the limelight with the new transportations, underground and surface transport like tram, trolleybus and bus.
So up to today, where there are strict regulations on auto-taxis of the City of Madrid. Where in recent years began to flourish the pretty silent hybrid taxis. And where priority above all is comfort in the entire fleet of taxis because of its constant renewal and professional drivers.